In the past few months, ever since I shared with the world my story of the pregnancy production "Weaving from Pain and Touching Happiness", I feel liberated and relieved.
Ever since, I find myself in a daily process of self discovery, longing to create and offer the world my heart through flowers.
I am sharing with you my latest flower production from June 2015 – a production expressing the determination and strength of the spirit. Flowers arranged in such a way that each tells a unique story that expresses my inner feelings.
With age and maturity comes wisdom and insight. Over the years, I have come to the realization that nothing is absolute. There are periods of complexity, in-between periods and times of growth. Each period offers us many gifts, insights, empowerment and growth. In this production I chose flowers and colors as my medium to express these transitions in our lives; transitions and changes in our feelings and the different dimension in our personalities.
 First Step – "The Strength in the Darkness"
 The design was created to express the ambivalence in our personality, our feelings and the more complicated moments in our lives. In this design I chose to use dark colors as well as different materials – some that were thorny and prickly and others that were soft and caressing. I made use of a closed and thorny artichoke next to an open flowering one – its flower beautifully purple and soft.
I then added round soft eggplants and flowers with warm colors such as the orchid, providing a sharp contrast with its prestige and beauty. Its internal textures are heartwarming, and the dark purple calla – an elongated flower that brings to mind an attentive ear.
The corset was also hand made entirely of feathers, expressing the need, in our more difficult moments, for warmth, love, and softness. So too in our lives- in our more complicated and difficult moments, when things are thorny and dark there is always softness, warmth and beauty. All we have to do is to see the positive and the tenderness that is present right next to us and is there to help and support us.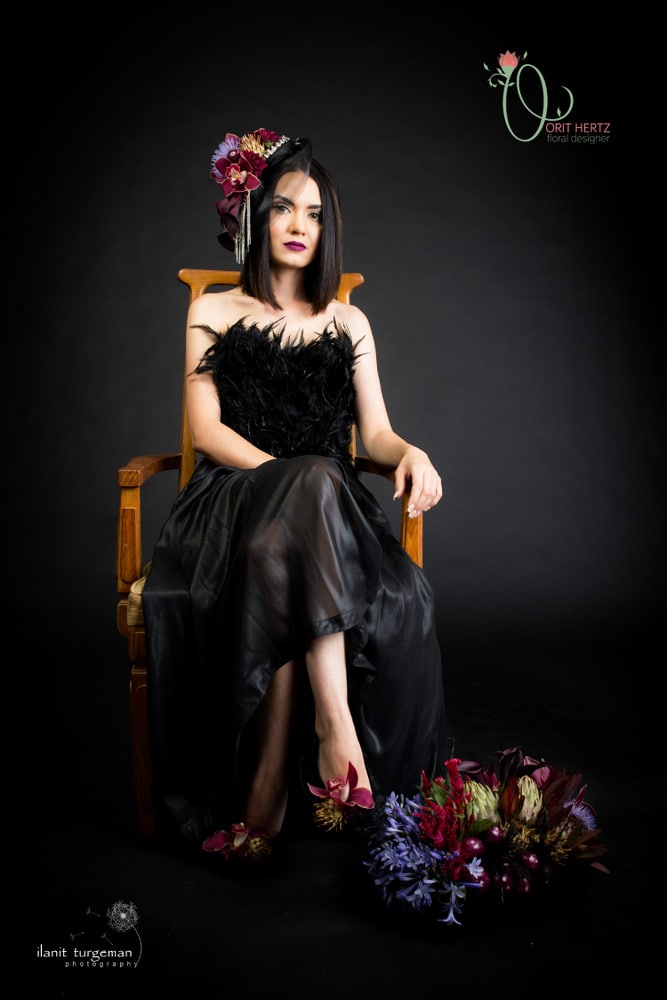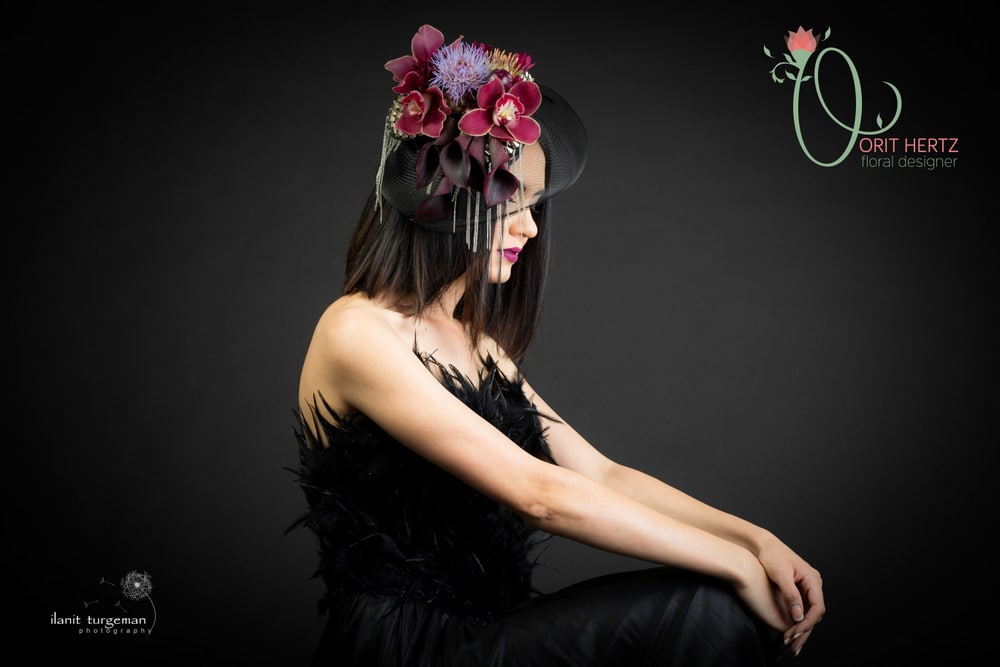 Intermediate step – "Flowering Buds"
 This design was created to express the awakening of exhilaration, the budding flowers, the beginning of bloom.
 The design shows the upper body exposed with a moldable template (also called 'forma') painted gold. The 'forma' placed on the body creates a feeling of a budding empowerment; the neckline is fuzzy and offers a sense of finding the yellow brick road. Another 'forma' on her head is composed of curled willow branches and within are flowers interlaced symbolizing the beginnings of bloom in optimistic lively colors in a variety of shapes and textures.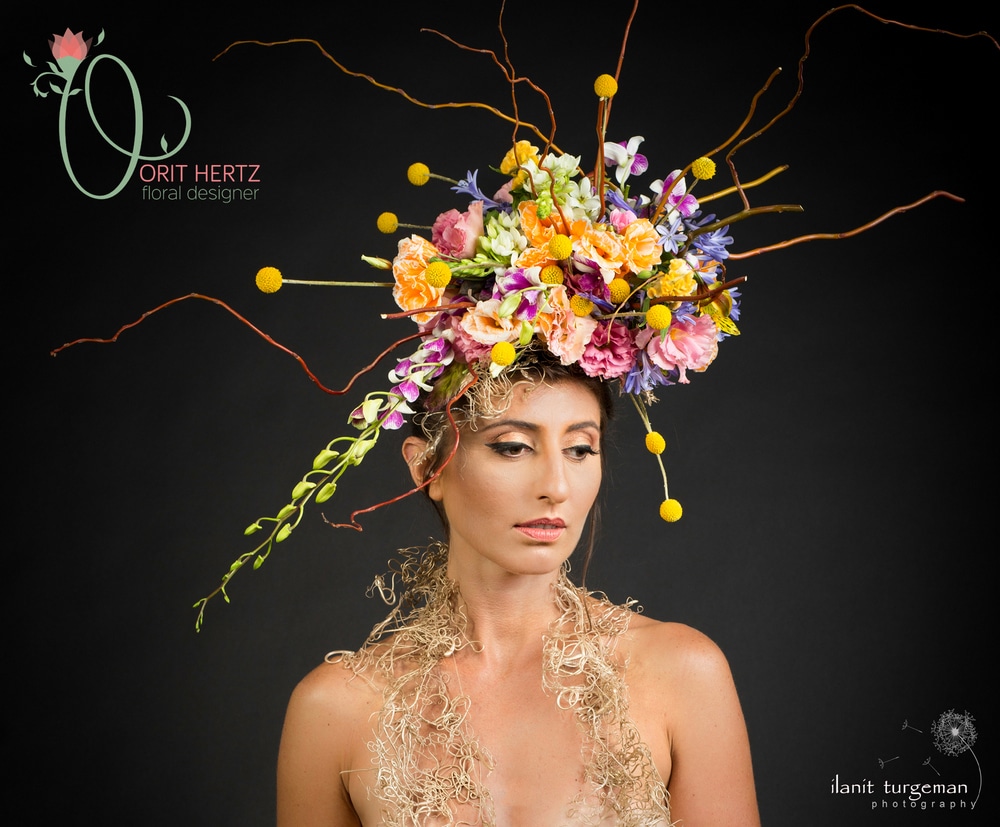 Final Step "Days of Bloom"
 A design that is entirely about bursting out and blossoming. The design is based on curled willow branches interlaced as a construct symbolizing a tree as a woman's body – "a woman in bloom".
Interlaced branches growing upward and flowers weaved on both sides; living the present in full bloom and moving towards a wonderful future.
A design that is powerfully rooted- rooted in the ground upward to the world. A wonderful bloom and wings filled with flowers, colors, textures, and materials symbolizing that anything is possible, that it is all up to us.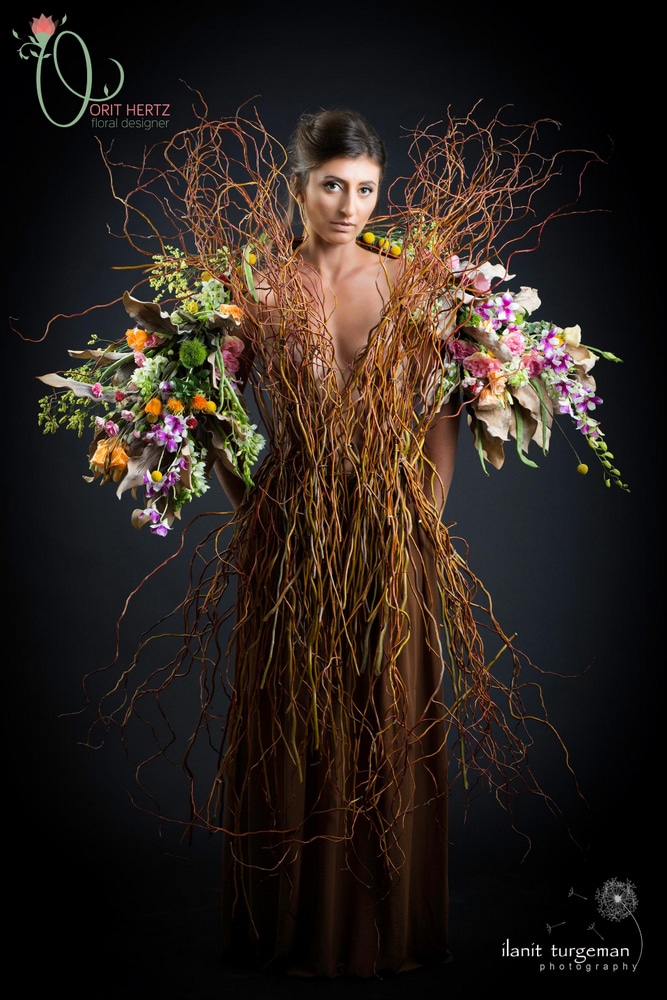 To conclude – I have been given a gift – an imagination that I use to sail to faraway places. I dream dreams, dream flowers, dream designs and dream how to turn them to reality and make them bloom. In the past year, I've grown and have become empowered. I can now connect inwardly to myself and express my feelings through the use of flowers.
Thank you to the most talented production team:
Photography : Ilanit Turgeman
Makeup and hair: Lilach Zargary
Models: Ira Kaufman and Olga Galohova